Share the warmth and happiness of a friendly smile with all those around you with this Smiley Face Button
>
C//DTD XHTML 1.0 Strict//EN" "http://www.w3.org/TR/xhtml1/DTD/xhtml1-strict.dtd">
28985522
Front
From the Designer
Share the warmth and happiness of a friendly smile with all those around you with this Smiley Face Button
---
Express yourself! Pin on our attention-grabbing buttons. It's a great way to wear and share what's on your mind. Add them to a fun banner or fabric for a unique decorating twist. Collect 'em, trade 'em.
2.25 inch diameter
Metal shell
Mylar/UV protecting cover
Pinned metal back
Smiley Face Button
$5.49
AVAILABILITY: In stock
Product Number: 030-28985522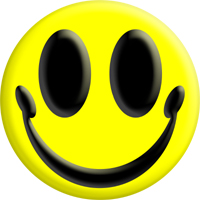 3D Warm Friendly Smiley Smile Face
It's back! The ever popular, the ever lovable, the ever friendly the totally universal smiley face is back once again. Only this time it's in the new and improved wonderful and modern 3d design. Maybe your face isn't always shining with a smile, even if you are smiling inside, but this design will help you share your internal or external smile. People around you and those that see you will more than likely grin and smile back at you as they see the smile that you are sporting on your shirt, coffee cup or other 3d smiley face designed accessory. Share the warmth and happiness of a friendly smile with all those around you directly and indirectly.