Share the warmth and happiness of a friendly smile with all those around you with this Smiley Face Tile Box
b>
C//DTD XHTML 1.0 Strict//EN" "http://www.w3.org/TR/xhtml1/DTD/xhtml1-strict.dtd">
28985971
Front
From the Designer
Share the warmth and happiness of a friendly smile with all those around you with this Smiley Face Tile Box
---
Perfect for stylishly storing jewelry & mementos, this hardwood box showcases a ceramic tile. Spring-loaded hinged lid stays open and snaps closed.
Made of solid hardwood with high-gloss lacquer finish
Interior is fully lined in velvet; bottom is covered in felt
Measures 5.5"x5.5"x2.25" with a 4.25"x4.25" ceramic tile
Please note: orientation of image seen is for ease of viewing only; design will face the customer on actual product.
THIS PRODUCT IS NOT INTENDED FOR SALE TO, OR USE BY, CHILDREN 12 YEARS OLD AND YOUNGER
IMPORTED
Smiley Face Keepsake Box
$22.49
AVAILABILITY: In stock
Product Number: 030-28985971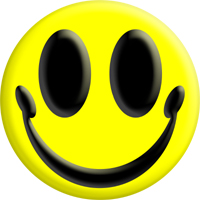 3D Warm Friendly Smiley Smile Face
It's back! The ever popular, the ever lovable, the ever friendly the totally universal smiley face is back once again. Only this time it's in the new and improved wonderful and modern 3d design. Maybe your face isn't always shining with a smile, even if you are smiling inside, but this design will help you share your internal or external smile. People around you and those that see you will more than likely grin and smile back at you as they see the smile that you are sporting on your shirt, coffee cup or other 3d smiley face designed accessory. Share the warmth and happiness of a friendly smile with all those around you directly and indirectly.