8 Ball and 9 Ball Yin-Yang for pool and billiards players that love to play and/or find peace, zen or statisfaction in playing nine ball and/or 8 ball
d Sign
C//DTD XHTML 1.0 Strict//EN" "http://www.w3.org/TR/xhtml1/DTD/xhtml1-strict.dtd">
545725079
Front
From the Designer
8 Ball and 9 Ball Yin-Yang for pool and billiards players that love to play and/or find peace, zen or statisfaction in playing nine ball and/or 8 ball
---
When you have something important to say, showcase it on a yard sign for all to see. Support a candidate, promote a yard sale, play up a party theme, create a holiday decoration - or just say what's on your mind.
Measures 22" wide x 15" high
13 oz. flexible vinyl is weather-resistant for outdoor use
Design printed on both sides
Sealed edges
Includes metal frame for ground mounting (basic assembly required)
8 Ball 9 Ball Yin Yang Yard Sign
$17.99
AVAILABILITY: In stock
Product Number: 030-545725079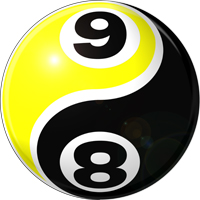 8 Ball 9 Ball Yin Yang
8 Ball and 9 Ball Yin-Yang for pool and billiards players that love to play and/or find peace and zen in nine ball, 8 ball or any other billiards or pool games.