8 Ball and 9 Ball Yin-Yang for pool and billiards players that love to play and/or find peace, zen or statisfaction in playing nine ball and/or 8 ball
med Tile
C//DTD XHTML 1.0 Strict//EN" "http://www.w3.org/TR/xhtml1/DTD/xhtml1-strict.dtd">
545728649
Front
From the Designer
8 Ball and 9 Ball Yin-Yang for pool and billiards players that love to play and/or find peace, zen or statisfaction in playing nine ball and/or 8 ball
---
Set off our decorative ceramic tile in its own stylish stained wooden frame -- the perfect way to complete a decorative gift or keepsake. Rounded edges and quality construction make this Framed Tile the ultimate wall accent.
Frame measures 6" X 6" x 0.5" with 4.25" X 4.25" tile
Constructed of stained Cherrywood
Two holes for wall mounting
8 Ball 9 Ball Yin Yang Framed Tile
$10.99
AVAILABILITY: In stock
Product Number: 030-545728649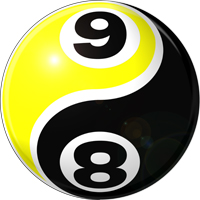 8 Ball 9 Ball Yin Yang
8 Ball and 9 Ball Yin-Yang for pool and billiards players that love to play and/or find peace and zen in nine ball, 8 ball or any other billiards or pool games.