8 Ball and 9 Ball Yin-Yang for pool and billiards players that love to play and/or find peace, zen or statisfaction in playing nine ball and/or 8 ball
t Glass
C//DTD XHTML 1.0 Strict//EN" "http://www.w3.org/TR/xhtml1/DTD/xhtml1-strict.dtd">
545729299
Front
From the Designer
8 Ball and 9 Ball Yin-Yang for pool and billiards players that love to play and/or find peace, zen or statisfaction in playing nine ball and/or 8 ball
---
Our custom ceramic shot glasses bring a personalized touch to bar supplies that is ideal for wedding favors, graduation party favors, barware & more.
Holds 1.9 oz.
Ceramic
Available with white or black interior
Dishwasher safe
8 Ball 9 Ball Yin Yang Shot Glass
$8.99
AVAILABILITY: In stock
Product Number: 030-545729299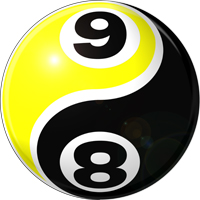 8 Ball 9 Ball Yin Yang
8 Ball and 9 Ball Yin-Yang for pool and billiards players that love to play and/or find peace and zen in nine ball, 8 ball or any other billiards or pool games.