8 Ball and 9 Ball Yin-Yang for pool and billiards players that love to play and/or find peace, zen or statisfaction in playing nine ball and/or 8 ball
" Button
C//DTD XHTML 1.0 Strict//EN" "http://www.w3.org/TR/xhtml1/DTD/xhtml1-strict.dtd">
545729848
Front
From the Designer
8 Ball and 9 Ball Yin-Yang for pool and billiards players that love to play and/or find peace, zen or statisfaction in playing nine ball and/or 8 ball
---
Need to say it big and bold? Pin on our oversized button and your message can't be missed. Support a candidate, play up your passion or make someone smile. Collect 'em, trade 'em. Buttons are a fun way to wear and share what's on your mind.
3.5-inch diameter
Metal shell
UV-resistant Mylar cover
Pinned metal back
8 Ball 9 Ball Yin Yang 3.5" Button
$4.49
AVAILABILITY: In stock
Product Number: 030-545729848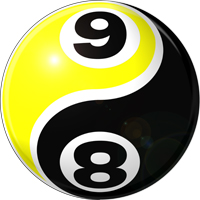 8 Ball 9 Ball Yin Yang
8 Ball and 9 Ball Yin-Yang for pool and billiards players that love to play and/or find peace and zen in nine ball, 8 ball or any other billiards or pool games.