8 Ball and 9 Ball Yin-Yang for pool and billiards players that love to play and/or find peace, zen or statisfaction in playing nine ball and/or 8 ball
" Button
C//DTD XHTML 1.0 Strict//EN" "http://www.w3.org/TR/xhtml1/DTD/xhtml1-strict.dtd">
545729848
Front
From the Designer
8 Ball and 9 Ball Yin-Yang for pool and billiards players that love to play and/or find peace, zen or statisfaction in playing nine ball and/or 8 ball
---
Need to say it big and bold? Pin on our oversized button and your message can't be missed. Add some fun flair to your life with our unique buttons. Express your humor, views, beliefs or create your very own to showcase your passionate personality with our pin badges.
8 Ball 9 Ball Yin Yang 3.5" Button
$4.49
AVAILABILITY: In stock
Product Number: 030-545729848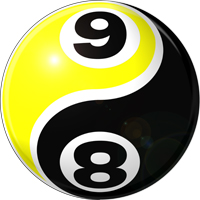 8 Ball 9 Ball Yin Yang
8 Ball and 9 Ball Yin-Yang for pool and billiards players that love to play and/or find peace and zen in nine ball, 8 ball or any other billiards or pool games.