8 Ball and 9 Ball Yin-Yang for pool and billiards players that love to play and/or find peace, zen or statisfaction in playing nine ball and/or 8 ball
i Button
C//DTD XHTML 1.0 Strict//EN" "http://www.w3.org/TR/xhtml1/DTD/xhtml1-strict.dtd">
545729851
Front
From the Designer
8 Ball and 9 Ball Yin-Yang for pool and billiards players that love to play and/or find peace, zen or statisfaction in playing nine ball and/or 8 ball
---
Add fun accents to jackets, backpacks, or mix 'n match our Mini Buttons. Our Mini Buttons are the perfect size for trading and collecting. Pin 'em on!
1 inch diameter
Metal shell
Mylar/UV protecting cover
Pinned metal back
THIS PRODUCT IS NOT INTENDED FOR SALE TO, OR USE BY, CHILDREN 12 YEARS OLD AND YOUNGER
IMPORTED
8 Ball 9 Ball Yin Yang Mini Button
$2.00
AVAILABILITY: In stock
Product Number: 030-545729851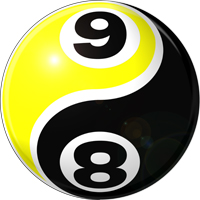 8 Ball 9 Ball Yin Yang
8 Ball and 9 Ball Yin-Yang for pool and billiards players that love to play and/or find peace and zen in nine ball, 8 ball or any other billiards or pool games.