8 Ball and 9 Ball Yin-Yang for pool and billiards players that love to play and/or find peace, zen or statisfaction in playing nine ball and/or 8 ball
5" Button (10 pack)
C//DTD XHTML 1.0 Strict//EN" "http://www.w3.org/TR/xhtml1/DTD/xhtml1-strict.dtd">
545729858
Front
From the Designer
8 Ball and 9 Ball Yin-Yang for pool and billiards players that love to play and/or find peace, zen or statisfaction in playing nine ball and/or 8 ball
---
Wear and share a favorite design or saying with 10 of your closest friends. Pass 'em out at parties, give 'em away at Burning Man. Keep 'em all for yourself and make some unique wall art. Collect 'em, trade 'em.
2.25 inch diameter
Metal shell
Mylar/UV protecting cover
Pinned metal back
10 pack
8 Ball 9 Ball Yin Yang 2.25" Button (10 pack)
$15.99
AVAILABILITY: In stock
Product Number: 030-545729858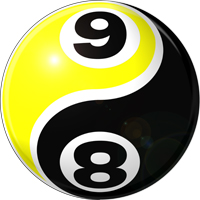 8 Ball 9 Ball Yin Yang
8 Ball and 9 Ball Yin-Yang for pool and billiards players that love to play and/or find peace and zen in nine ball, 8 ball or any other billiards or pool games.