8 Ball and 9 Ball Yin-Yang for pool and billiards players that love to play and/or find peace, zen or statisfaction in playing nine ball and/or 8 ball
i Poster Print
C//DTD XHTML 1.0 Strict//EN" "http://www.w3.org/TR/xhtml1/DTD/xhtml1-strict.dtd">
545733035
Front
From the Designer
8 Ball and 9 Ball Yin-Yang for pool and billiards players that love to play and/or find peace, zen or statisfaction in playing nine ball and/or 8 ball
---
Like a poster -- only smaller! Our high quality one page prints are printed on glossy, 12 point paper and measure 11" x 17".
Full bleed dynamic color
Glossy, 12 point paper
8 Ball 9 Ball Yin Yang Mini Poster Print
$6.99
AVAILABILITY: In stock
Product Number: 030-545733035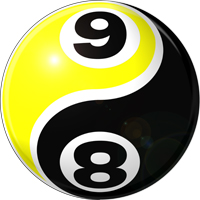 8 Ball 9 Ball Yin Yang
8 Ball and 9 Ball Yin-Yang for pool and billiards players that love to play and/or find peace and zen in nine ball, 8 ball or any other billiards or pool games.