8 Ball and 9 Ball Yin-Yang for pool and billiards players that love to play and/or find peace, zen or statisfaction in playing nine ball and/or 8 ball
ll Framed Print
C//DTD XHTML 1.0 Strict//EN" "http://www.w3.org/TR/xhtml1/DTD/xhtml1-strict.dtd">
545733041
Front
From the Designer
8 Ball and 9 Ball Yin-Yang for pool and billiards players that love to play and/or find peace, zen or statisfaction in playing nine ball and/or 8 ball
---
Prints are perfect for the home or office. All prints are custom manufactured using archival inks and acid-free paper. Framed prints are matted and framed in a stylish black frame with plexiglass cover. Frames include complete backing. Frame size: 19" x 11"
8 Ball 9 Ball Yin Yang Small Framed Print
$31.99
AVAILABILITY: In stock
Product Number: 030-545733041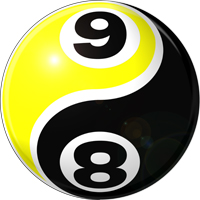 8 Ball 9 Ball Yin Yang
8 Ball and 9 Ball Yin-Yang for pool and billiards players that love to play and/or find peace and zen in nine ball, 8 ball or any other billiards or pool games.