8 Ball and 9 Ball Yin-Yang for pool and billiards players that love to play and/or find peace, zen or statisfaction in playing nine ball and/or 8 ball
5 x 24.5 Oval Wall Peel
C//DTD XHTML 1.0 Strict//EN" "http://www.w3.org/TR/xhtml1/DTD/xhtml1-strict.dtd">
545733802
Front
From the Designer
8 Ball and 9 Ball Yin-Yang for pool and billiards players that love to play and/or find peace, zen or statisfaction in playing nine ball and/or 8 ball
---
a reusable wall graphic.
Wall decals are printed on a reusable vinyl with a special adhesive that sticks to walls without harming them. No tape. No tacks. No marks.
Measures 35" x 21"
Won't hurt walls
Can be moved and reused
8 Ball 9 Ball Yin Yang 38.5 x 24.5 Oval Wall Peel
$17.99
AVAILABILITY: In stock
Product Number: 030-545733802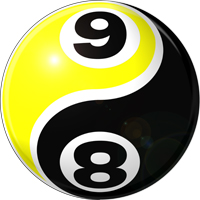 8 Ball 9 Ball Yin Yang
8 Ball and 9 Ball Yin-Yang for pool and billiards players that love to play and/or find peace and zen in nine ball, 8 ball or any other billiards or pool games.