With this Dog T-Shirt you can proudly announce that you are to be used for amusement purposes only
hirt
C//DTD XHTML 1.0 Strict//EN" "http://www.w3.org/TR/xhtml1/DTD/xhtml1-strict.dtd">
23969662
Front
From the Designer
You can proudly announce that you are to be used for amusement purposes only, not to be taken serious and most importantly not to be used for investment purposes
---
Upgrade your pups wardrobe with this pet t-shirt featuring black ringer accent on the sleeves & collar.
For Amusement Only Dog T-Shirt
$19.49
AVAILABILITY: In stock
Product Number: 030-23969662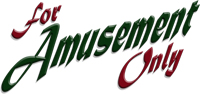 For Amusement Only
Are you not to be taken seriously? Are you only to be used for amusement purposes only? Do you know someone that is to be used only for your or someone else's amusement? Then these are for you!