With this Throw Pillow you can proudly announce that you are to be used for amusement purposes only
illow
C//DTD XHTML 1.0 Strict//EN" "http://www.w3.org/TR/xhtml1/DTD/xhtml1-strict.dtd">
23969694
Front
From the Designer
You can proudly announce that you are to be used for amusement purposes only, not to be taken serious and most importantly not to be used for investment purposes
---
Add a personal touch to any room of the house with our custom throw pillows. Whether you're beautifying your bedroom or cozying up your couch, these fun and stylish accent pieces let you relax in style while showing off your one-of-a-kind personality.
For Amusement Only Throw Pillow
$18.49
AVAILABILITY: Temporarily out of stock
Product Number: 030-23969694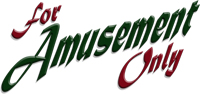 For Amusement Only
Are you not to be taken seriously? Are you only to be used for amusement purposes only? Do you know someone that is to be used only for your or someone else's amusement? Then these are for you!