With this Wall Clock you can proudly announce that you are to be used for amusement purposes only
ock
C//DTD XHTML 1.0 Strict//EN" "http://www.w3.org/TR/xhtml1/DTD/xhtml1-strict.dtd">
23969698
Front
From the Designer
You can proudly announce that you are to be used for amusement purposes only, not to be taken serious and most importantly not to be used for investment purposes
---
Know what time it is? It's time to check out our custom hanging wall clocks! With a unique printed face and fun contemporary design, this wall clock will show off your personality in a novel way. It's sure to become the centerpiece of your home, office or kitchen.
For Amusement Only Wall Clock
$13.49
AVAILABILITY: In stock
Product Number: 030-23969698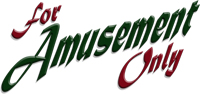 For Amusement Only
Are you not to be taken seriously? Are you only to be used for amusement purposes only? Do you know someone that is to be used only for your or someone else's amusement? Then these are for you!