WARNING: Approach With Caution Button
on
C//DTD XHTML 1.0 Strict//EN" "http://www.w3.org/TR/xhtml1/DTD/xhtml1-strict.dtd">
84380095
Front
From the Designer
WARNING: Approach With Caution Button
---
Add some fun flair to your life with our unique pin Buttons. Express your humor, views, beliefs or create your very own to showcase your passionate personality with our pin badges.
Approach With Caution Button
$5.49
AVAILABILITY: In stock
Product Number: 030-84380095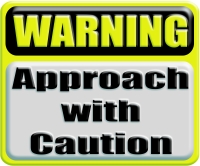 WARNING: Approach With Caution Sign
Let other people know that you need to be approached with caution with the "WARNING: Approach With Caution" 3D Industrial Metal Looking Sign Mega Cool Shirts, Sweatshirts, Clocks, Stickers, Mugs And More. Makes an excellent gift for those that are slighty tempermental too!