WARNING: Approach With Caution Mini Poster Print
Poster Print
C//DTD XHTML 1.0 Strict//EN" "http://www.w3.org/TR/xhtml1/DTD/xhtml1-strict.dtd">
84381494
Front
From the Designer
WARNING: Approach With Caution Mini Poster Print
---
Dress up your walls with a custom mini poster that is undeniably YOU. Our high-quality custom posters let you share your beliefs, sense of humor and personality in a fun and novel way.
Approach With Caution Mini Poster Print
$7.49
AVAILABILITY: Temporarily out of stock
Product Number: 030-84381494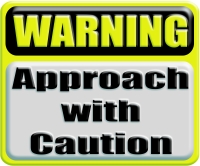 WARNING: Approach With Caution Sign
Let other people know that you need to be approached with caution with the "WARNING: Approach With Caution" 3D Industrial Metal Looking Sign Mega Cool Shirts, Sweatshirts, Clocks, Stickers, Mugs And More. Makes an excellent gift for those that are slighty tempermental too!