Proudly announce to the world, "I Feel Much Better, Since I Gave Up Hope" with this Button
C//DTD XHTML 1.0 Strict//EN" "http://www.w3.org/TR/xhtml1/DTD/xhtml1-strict.dtd">
23101798
Front
From the Designer
Proudly announce to the world, "I Feel Much Better, Since I Gave Up Hope" with this Button
---
Add some fun flair to your life with our unique pin Buttons. Express your humor, views, beliefs or create your very own to showcase your passionate personality with our pin badges.
I Feel Much Better Button
$5.49
AVAILABILITY: In stock
Product Number: 030-23101798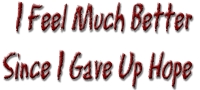 I Feel Much Better Since I gave Up Hope
Are you tired of looking forward to things only to have plans fall apart? Do you try to see the bright side of life, only to see even darker clouds? As you attempt to get closer to your dreams and desires, do they seem to get farther away? Whenever you anticipate something good to happen, do you get crushed in the end? Then maybe you will feel better if you just gave up hope and be able to proudly announce to the world, "I Feel Much Better, Since I Gave Up Hope". Think about it, it may be the only way to go, without hope, there is no more let downs or disappointments. After giving up hope you will feel better, because there will no longer be any expectations for anything good to happen, so everything will be either good or business as usual.