Why bother doing anything today that you can put off until tomorrow, including putting off anything that you can put off until tomorrow
psake Box
C//DTD XHTML 1.0 Strict//EN" "http://www.w3.org/TR/xhtml1/DTD/xhtml1-strict.dtd">
443206916
Front
From the Designer
Why bother doing anything today that you can put off until tomorrow, including putting off anything that you can put off until tomorrow
---
Safely store jewelry and precious mementos in a style all your own! This artfully crafted hardwood keepsake box features a beautifully designed inset square ceramic tile and a velvet-lined interior to protect special keepsakes. Please note: orientation of image seen is for ease of viewing only; design will face the customer on actual product.
Procrastinate Tomorrow Keepsake Box
$22.99
AVAILABILITY: In stock
Product Number: 030-443206916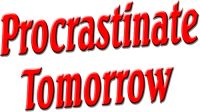 Procrastinate Tomorrow!
Procrastinate Tomorrow!! Why bother doing anything today that you can put off until tomorrow, including doing anything today that you can put off until tomorrow