Why bother doing anything today that you can put off until tomorrow, including putting off anything that you can put off until tomorrow
l Clock
C//DTD XHTML 1.0 Strict//EN" "http://www.w3.org/TR/xhtml1/DTD/xhtml1-strict.dtd">
443206917
Front
From the Designer
Why bother doing anything today that you can put off until tomorrow, including putting off anything that you can put off until tomorrow
---
Know what time it is? It's time to check out our custom hanging wall clocks! With a unique printed face and fun contemporary design, this wall clock will show off your personality in a novel way. It's sure to become the centerpiece of your home, office or kitchen.
Procrastinate Tomorrow Wall Clock
$13.99
AVAILABILITY: In stock
Product Number: 030-443206917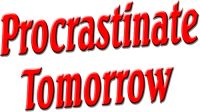 Procrastinate Tomorrow!
Procrastinate Tomorrow!! Why bother doing anything today that you can put off until tomorrow, including doing anything today that you can put off until tomorrow