This Wall Clock proclaims that for you, playing golf is so much better and heathier than visiting with any kind of therapist
>
C//DTD XHTML 1.0 Strict//EN" "http://www.w3.org/TR/xhtml1/DTD/xhtml1-strict.dtd">
40155944
Front
From the Designer
This Wall Clock proclaims that for you, playing golf is so much better and heathier than visiting with any kind of therapist
---
Know what time it is? It's time to check out our custom hanging wall clocks! With a unique printed face and fun contemporary design, this wall clock will show off your personality in a novel way. It's sure to become the centerpiece of your home, office or kitchen.
Golf Therapy Wall Clock
$13.49
AVAILABILITY: In stock
Product Number: 030-40155944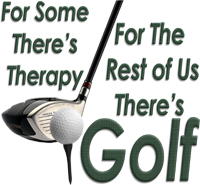 For some there's therapy, for the rest of us there's golf
It's very true; sometimes the best way to work things out mentally is to get out on the golf course for a few hours and wack that little white ball for a few hours. There is just something about getting out in the open, breathing in the fresh air and going for a walk along the 18 holes of a beautiful golf course focusing your mind and energy on hitting that great next shot to clear your mind of other distractions and problems of life. It is amazing how solutions to some of life's problems can just appear to you when you get your mind off of them when you can step away from them and concentrate in a relaxing way to other things, like playing a round of golf. No matter how well you play, "For some there's therapy, for the rest of us there's golf".